THE BEACH
We recommend you start your day with a refreshing swim if the tide is high, or grab your chance to stroll along the huge reef which is left exposed when the tide recedes. Marvel at the sculptured rocks, caves and tunnels carved by the wind and the sea. Bask and frolic with the kids in the warm tide pools. Thanks to this natural breakwater, the waves roll in gently and allow for safe swimming. 
BIRDWATCHING 
In the morning, awake to the cacophony of huge flocks of parrots or wild turkeys running through the underbrush.  Take a stroll to the bamboo grove or along the river. You'll see Pelicans, Frigate birds, Hummingbirds, Sandpipers, giant and tiny Kingfishers, Horneros, Parrots and Parakeets, Azulejos, Caciques, Flycatchers, Masked Tyrants,  Mot Mots, Herons, and even Ospreys escaping from the cold northern climate, just like so many of our guests.
EXPLORING
Discover our organic gardens, or take a hike up the hill into the dense forest. With luck you might catch a glimpse of Monkeys, an Anteater, Guanta, Armadillo, Raccoons, Wild Pigs, an Ocelot, a Boa, a Sloth, or a family of Iguanas.  Giant Turtles lay their eggs in the shelter of the bay.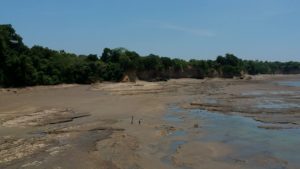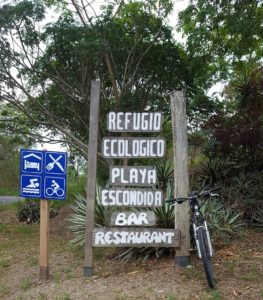 MOUNTAIN BIKE
If you have a mountain bike or sea kayak, this locale is perfect.  From June to September one can rent a boat and driver to see whales frolicking half an hour off shore
REST
If you feel you've had enough sun and surf, retire to your rustic cabin tucked into the tropical foliage, have a siesta or observe a fascinating variety of butterflies and birds from the hammock on your balcony.
Or visit our lounge where you'll find a wide selection of books, more hammocks, and a variety of games (cards, chess, backgammon, scrabble). WiFi is available throughout Playa Escondida.
Enjoy a glorious sunset, sample our seasonal fare in the restaurant, then do some serious stargazing beside the campfire and see if you can pick out some of the southern constellations. We are less than half a degree north of the equator on the eightieth parallel of longitude.